MEN'S WORKER BOOTS LOOK BOOK
09:02
The Worker Boot
This will be suitable each and every season, plus it will only look better each time you break it in and wear it regularly. The leather should become more supple and with each scratch and worn patch that is created through use, it just makes it a more authentic worker boot.
The other great thing about these boots are they are quite high, so they can be used for tucking jeans in, or simply covering the top part with your jeans to create 2 very different looks.


The Looks
First Outfit – Fashion Forward
Fashion forward generally means
hitting the latest trends and being edgy with your look.
Today we are going to do this by combining the dark skinny jeans with the worker boots and tucking them in. You can tie the boots up tight and right to the top in order to
keep a very sharp line
or leave them slightly looser and undone at the top
to create a feeling of weight and size
. I have picked very much a high fashion acid wash jean today but obviously you can sub in any skinny variety in a grey, black or indigo wash and
you would pull off this look effortlessly.
I am really trying to ram home the edgy/fashion forward approach in this one.
We then combine this with some layering on the top half of the outfit
to bring us bang up to date.
Start with a basic lightweight cotton tee in a v-neck or crew neck, then throw on the bold check/plaid shirt
in order to really hit the whole worker trend.
You can leave the top buttons undone and the shirt untucked for a casual vibe
OR
tuck the shirt in and add a great black leather belt in order to smarten up the whole look.
My advice now would to be throw on a great jacket.
I would go for a cropped military style jacket or ea coat to really hit the trends this year. Some of you might want to push out an even edgier look though with a great black leather bomber. You could even throw on the thin and fitted quilted jacket if you are feeling brave.
These are all trends that are big for the year and you can pick your personal preference.
I went for the pea coat/military combined combination as I think
it looks smarter and military goes well with the whole worker boot style.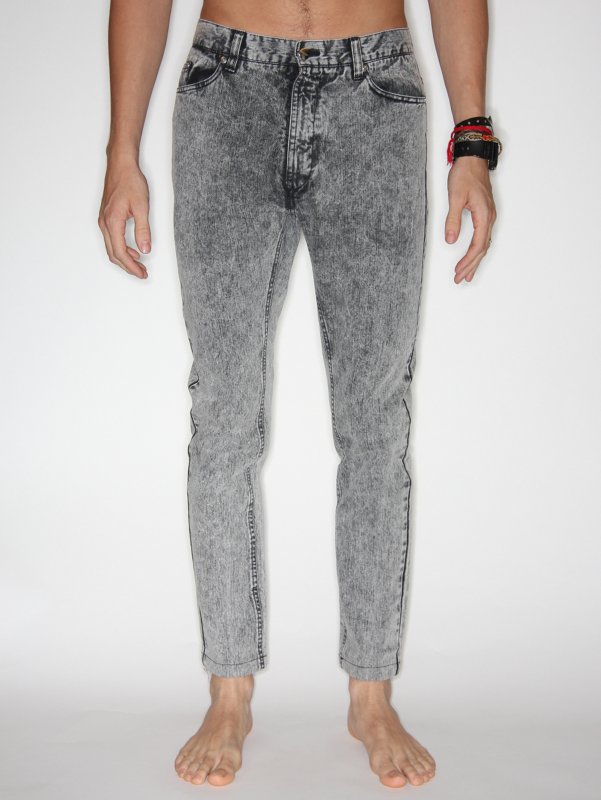 Second Outfit – Relaxed Formal
Relaxed formal can definitely work with the military boot, it's just a case of picking the right surrounding pieces.
As you can see from the main image at the top of the post
(left hand side), D&G were rocking this look in their new Spring/Summer 2010 preview shows this year, so this trend is
set to continue right into the following 2 seasons. How is that for an investment?
The look in the main image is what we are going to create because it is such a smart look which
utilises the military boots in a totally different way to the outfit above.
First go for the slim fit blue jeans. We will follow their lead by rocking the distressed/ripped variety as I think it matches the whole "worker" vibe and makes your bottom half very much a relaxed look. Remember to cover the top half of the boot this time with your jeans.
We then combine this with a much smarter top half
with a great lightweight cotton tee, smart blue tone shirt, and then the navy blazer to round the look out.
Look at the contrast from top to bottom and see how the outfit still works.
I love clashing styles and balancing outfits like this because it really shows a great knowledge of fashion if you can pull it off.
You do not need to go over the top with accessories on this one.
I really like to leave the belt and just make sure my jeans fit perfectly around the waist. Options to accessorise an outfit like this would be: statement watch, sunglasses, pocket scarf (if your jacket allows) and/or belt.
Third Outfit – Casual
Casual means just that – we are
going to strip down this look and just stick to the basics.
It would be perfect just for relaxing in down the pub on a lazy Sunday, or out and about shopping over the weekend. The key here is comfort whilst still sticking to the fashion basics which will project good fashion sense.
For this we are going to go for a comfort pair of jeans.
This means they are a slightly looser fit all the way through the leg, and can sometimes add extra length as well.
When combining the comfort jeans with the military boot – or any other footwear for that matter – the initial and automatic thought is to just let the jeans completely cover the top half of the footwear because the leg width is wider.
This doesn't have to be the case with the military boot however;
you can leave the military boot slightly undone and create more width to tuck the jeans in "untidy" OR simply rest the jeans hem above the top of the boot so it gathers slightly. All three ways are perfectly possible within a relaxed outfit and so it is up to you to see how you want to experiment with it. You can see in the main image above (middle picture) that
Diesel utilised the comfort jeans and worker boot combination in their latest runway shows.
For the top half you can really just experiment with layering. I would look to smarten it up slightly with a polo, cardigan and mac combination – but that is my own personal taste. You can simply wear a graphic tee with a hoodie and leather jacket, or go somewhere in between with the plain tee, knitwear and hoodie/jacket.
The options for casual outfits are limitless so feel free to create your own individual look.
I am struggling for which option to pick
so for this example we will go true dressed down casual
with the graphic tee, plain hoodie and leather jacket combination. Accessories you can add could be: belts, watches, wallet chains, sunglasses, hats etc. I have thrown in the over sized beanie this time because
it is a true help during this rainy season.


Try this look fellaz and kick the season in style plus keep your style fresh and cool..